Ayurvedic Products Manufacturer in Kerala – After yoga, it is time for Indian herbal manufacturers to make their presence in the worldwide market of Ayurveda. With the rise in the demand for ayurvedic products, Kerala is on its way to becoming the hub for investments in Ayurveda. As per the recent data the size of the global ayurvedic market is expected to almost treble from $3.4 billion in 2015 to $9.7 billion in 2022. Ayurvedic Products Manufacturer in Kerala is catering to the demand of people for ayurvedic products and services.
By observing the high market demand for the ayurvedic products many companies are willing to invest in the herbal manufacturing company. Navayur Herbals is one of the leading ayurvedic manufacturing company in India who is known for its 100% natural herbal products. The company has made a strong position in the Indian pharma market. With our world-class manufacturing facilities, we are providing a wide range of ayurvedic products across Pan India. Become the strategic partner of top Ayurvedic Products Manufacturer in Kerala and grow your business successfully.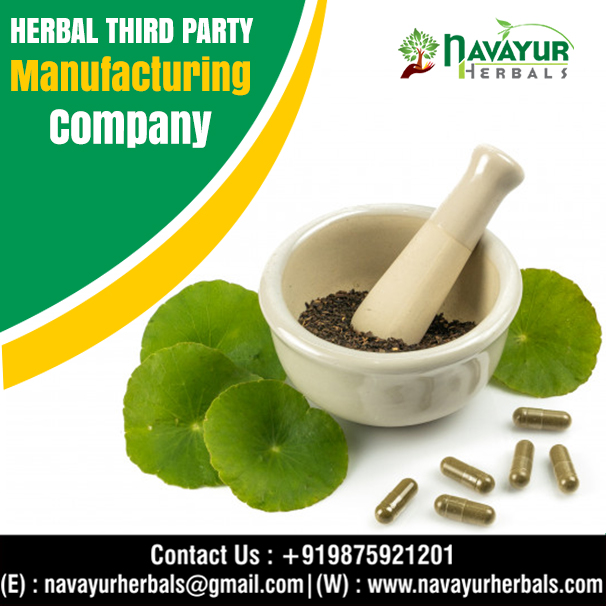 We are offering genuine investment deals to our associated pharma companies. For any further details about our company or its franchise services get in touch with our experts by dialing +91 9875921201. You can also send us a mail at navayurherbals@gmail.com. The respective member of our company will soon revert you back to your queries.
Fastest Growing Ayurvedic Manufacturing Company in Kerala 'Navayur'
Navayur Herbals is engaged in the marketing and manufacturing of a wide variety of ayurvedic products. Our organization has been dedicated to bringing the Ayurveda and its benefits to everyone. We are equipped with the 500+ workforce who help us to produce the products efficiently.
Being an ISO certified and licensed company we have taken responsibility to provide indigenous processed herbal products. We are committed to meet customer satisfaction by delivering ayurvedic products at competitive prices. Our organization plan, organize and execute the work for the continual improvement complying with international standards.
Navayur Herbal is a team of experienced members.
We only produce DCGI and FSSAI approved products.
Quality is the topmost priority of the company.
Our products are provided at affordable and economical rates.
Why Kerala is Considered as the Hub For Investment?
Kerala is the only state in India where Ayurveda is used as mainstream medicine. Here one can see a great future and career scope. The Ayurveda is fast turning Kerala into a global medical tourism destination. Ayurveda practiced in Kerala in its traditional and authentic form, has been a major attraction for investors. In Kerala, there are many small scales as well as large scale manufacturing companies that engaged in the production of an extensive range of ayurvedic products.
Kerala well known as the cradle of Ayurveda has many advantages:
Kerala is equipped with a research and development center in the field of herbal medicine and other products.
Common facility center for quality certification and validation.
International marketing support centers in Kerala.
Facility Centre for specialty production and packaging.
Sophisticated Manufacturing Facilities At Our Premises
Being considered as the proficient ayurvedic manufacturer in Kerala we make sure that all the facilities are available at our premises.
The company has a vast warehousing facility to store the products safely and at room temperature.
Our complete range of products is packed with tamper-proof packaging for longer life.
Our premises are equipped with fitted machinery, modern equipment, and devices.
Each and every product goes under chemical testing before the final delivery.
The manufacturing process of our company complies with all the SOPs that is prescribed to maintain the quality standards.
Extensive Range of Quality Herbal Products Manufactured at 'Navayur'
At Navayur Herbals, you will get various range of ayurvedic products from tablets and capsules to herbal cosmetic products. All the WHO and GMP guidelines are followed by us so that our customers and clients get quality products. Our products are strictly examined by the quality control experts.
Below is the product portfolio of our company:
Tablets
Capsules
Sachets
Syrups
Drops
Gels
Ointments
Creams
Lotions
Get Best Third Party Pharma Manufacturing Services
Navayur Herbals is the most reliable manufacturing company. The company has built trust among pharma professionals and companies. By associating with the company you can easily lay emphasis on your sales and marketing. The company takes complete responsibility from production to packaging. Thus you don't have to take stress about manufacturing and you get to manufacture a wide range of products under your brand name.
At Navayur Herbals, you get the fastest delivery of products i.e, within 30-35 days.
Our research and development team is indulged in bringing the new and innovative ayurvedic formulations as per the market demand.
Our dextrous professionals have made us capable of large scale production.
We are offering third party manufacturing in every remote area of the country.
Contact Information
Name: Navayur Herbals
Address: SCF 246, Motor Market
Manimajra, Chandigarh
Phone No: +91 9875921201
Email Id: navayurherbals@gmail.com