Ayurvedic Medicine Manufacturer in Nashik – The increased emphasis on lifestyle and wellness, driven by a rise in non-communicable and chronic diseases is increasing the demand for Ayurveda in India. As per the report, 77% of Indian households are consuming ayurvedic medicines and products. The global ayurvedic market size is expected to increase from $3.4 billion in 2015 to $9.7 billion in 2022.
Nashik is well positioned to cater to this rising demand for ayurvedic products. The ayurvedic pharma segment is providing the best business opportunity and expanding your business through Ayurvedic Medicine Manufacturer in Nashik turns to be profitable. Navayur Herbals deals in the manufacturing of quality ayurvedic or herbal products. The organization has rich experience in manufacturing, supplying and trading.
Navayur Herbals is providing the best business deals through its ayurvedic manufacturing facilities. The company is giving you a chance to expand and grow your ayurvedic business. Being the top Ayurvedic Medicine Manufacturer in Nashik we have integrated our premises with world-class infrastructure, modern machinery, and devices. Our manufacturing facilities have spread over a vast area and an eco-friendly environment is maintained at our premises.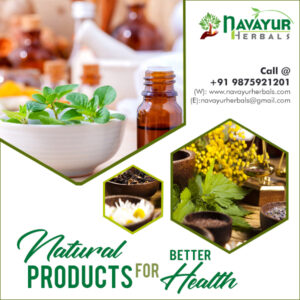 If you are ayurvedic pharma company who is looking for the best manufacturing facilities then you are at the right platform. Avail our ayurvedic medicine manufacturing facilities at affordable prices. In order to get in touch with us feel free to give us a call at +919875921201 or you can also mail us at navayurherbals@gmail.com.
'Navayur' Ayurvedic Medicine Manufacturers and Suppliers in Nashik
Navayur Herbals is enlisted in the list of top ayurvedic medicine manufacturers in Nashik. The company has gained lots of appreciation and positive feedbacks from the customers regarding their natural products. Our hardworking and dedicated team of experts keep us going and every time we come up with the new and innovative ideas to our products and services. To make sure that our herbal products are healthy and beneficial for the consumers we interact with the health care professionals. Our vision is to provide a better and healthy life to the people who are suffering from any health issues. Below listed are some of the key features of our company:
Efficient and innovative products are provided by us at reasonable prices.
We are an ISO certified firm and are the choice of thousands of people.
Our ayurvedic products are produced under WHO, GMP, and AYUSH certified units.
The company has the best R&D team with creative skills and experience.
 World Class Infrastructure Facilities for Ayurvedic Manufacturing
The organization has a state-of-art manufacturing unit in Nashik. Our plant is equipped with high end analytical and R&D laboratories and thus we meet the highest quality standards. We have installed advanced and latest machines to formulate the extensive range of herbal products. Navayur Herbals is one of the pioneering manufacturer and developer of a diverse range of ayurvedic products for many diseases.
We also have the medicinal plant cultivation in India, especially in Maharashtra and Nashik. This ultimately helps us to maintain the quality right from the source. All our ayurvedic products and medicines are manufactured in the germ-free zone. Addition to this our production unit is also compliance with FDA regulations to meet the international standards.
Quality Control and Quality Assurance Measurements Followed By Us
Navayur Herbals believe in total quality compliance and total quality management. We have acquired a team of expert quality controllers who are delegated to monitor complete ongoing manufacturing process at each stage. For efficient production, we make use of hygienic raw materials that are imported from reliable vendors.
Our company is well known for providing the highest quality herbal products and due to this, we are capable of maintaining our good position in the market. We immensely promote the culture of WHO-GMP throughout the country. Furthermore, our medicines are accurately packed using the best packaging materials to ensure that the products are contaminated free.
What Makes Navayur Herbals the Best Herbal Manufacturer in Nashik?
Navayur Herbals is the leading producer of ayurvedic medicines and products in Nashik. The company deals with various ayurvedic products such as tablets, capsules, juices, syrups, drops, churna, oil, ointments, etc. We are providing our best manufacturing facilities to all the companies and pharma professionals who want to deals in Ayurveda range. Our professionalism and transparency in work have helped us to reach to the wider audiences. The herbal products of our company are widely consumed by the people for their better health. Below listed are some facilities that we provide to our logistic partners:
You can start or expand your ayurvedic business with less investment.
With the help of our manufacturing services, you can easily save your time and energy.
We also provide the best marketing and promotional support to our associates.
Run your business smoothly and lay emphasis on your sales and marketing.
Contact Information
Name: Navayur Herbals
Address: SCF 246, Motor Market
Manimajra, Chandigarh
Phone No: +919875921201
Email Id: navayurherbals@gmail.com